Friday, July 24, 2020
Johannes Vermeer,
Girl Reading a Letter Before an Open Window
, 1657-59, oil on canvas
It's thought this young woman Vermeer painted around 1659 wants out of that open window and into a larger life, perhaps with the person who has sent the love letter she is reading.
Why? Well, in the mid-17th century (their Golden Age) the Dutch made extensive use of symbolism to communicate meaning. The open window as a symbol of escape is still recognizable but today we probably wouldn't associate the bowl of fruit in the painting's center as a symbol of extramarital relations. The fruit meant just that to the Dutch, and in case you missed the point, originally there was a cupid figure on the wall above her. For unknown reasons Cupid was painted over sometime in the 18th century, but he's about to make a comeback as you'll see shortly.
For a girl who wanted to be part of the world, Vermeer's letter reader has spent much of her time misunderstood or out of sight . Her original owner thought he had purchased a Rembrandt, and later experts attributed her to Pieter de Hooch until attribution was finally restored to Vermeer in 1860. Nearly a century later, she was hidden in a tunnel in Saxony just before the bombing of Dresden in World War II. She was found there by the Russian Army, taken away to Russia and kept behind the Iron Curtain until the Russians decided to return her to Dresden after the death of Stalin.
After all this, in 2017 she was taken off the walls and into the restoration department of the Dresden Museum, The Gemagaldegalerie Alte Meister. Soon, finally, she will be out in that world she longed for in a special exhibition space of her own at the Gemaldegaleri's important upcoming exhibiton of Dutch genre painting.*
She's likely to be much discussed when the show opens in March 2021. It will be a highly publicized, internationally attended, superlative exhibition with 40-50 works by major Dutch genre artists, including 10 particularly fine paintings by Vermeer. Vermeer enthusiasts, expert and laye, will flock to the "new Vermeer" as some are already calling it. And, even though an international committee of experts have created guidelines (including the return of Cupid!) and the Gemaldegalerie's conservation department is topnotch there are sure to be very public disagreements on how Vermeer's letter reader looks when she is unveiled.**
For a girl who longed to shake up the world in the mid-1600's, she certainly got her wish.
Thursday, July 16, 2020
Edward Hopper, Western Motel, 1957, oil on canvas




So, today I've been thinking about the relationships between Richard Diebenkorn's and Edward Hopper's art. They aren't accidental.
When Richard Diebenkorn was learning to paint in the 1950's, Abstract Expressionism was the vogue. So much so that, in a determination to be 'with it,' the San Francisco Art Institute recruited several "AbEx's" from the East Coast and more or less banned realistic painting. The point of Ab Ex was to let the art 'flow from the artist's emotions and soul (or some mystical place) directly onto the canvas.'
Diebenkorn tried and actually succeeded but never resonated with this expressive method. His natural thinking process was orderly, methodical, architectural; he didn't wear his soul on his sleeve. So he turned to the study of other artists for his guidance - through books, magazines, and especially actual works if he could get his eyes on them.
His first main 'teacher' (although he wasn't aware of it) was Edward Hopper. Diebenkorn encountered Hopper's austere Americana at age 20 when he was in Stanford's art program. And he fell hard. In his own words: I embraced Hopper completely ...It was his use of light and shade and the atmosphere...kind of drenched, saturated with mood, and its kind of austerity. It was the kind of work that just seemed made for me. I looked at it and it was mine.
Richard Diebenkorn, Girl Looking at Landscape, 1957, oil on canvas
Diebenkorn filled his his early sketchbooks and canvasses with images that were so like Hopper's "it makes you do a double take when you see the label" according to a reviewer. Hopper's intense but cold colors are there, the clean lines and shapes, along with the enigmatic estrangement of the subjects and that peopleless, contemplative landscape out the window. But, these aren't mere imitations of Hopper; already Diebenkorn is allowing his paint to be 'washy,' to be able to rethink, make changes and get it right directly on the canvas, in front of the viewer.
Diebenkorn enjoyed success with these Hopperesque figurative paintings. But gradually the landscape 'backgrounds' became more dominant and then paintings in their own right. Almost from the beginning he seemed to be wrestling with the figurative or the landscape; the realistic or the abstract. The debate is on visual record in many works including the two paintings below painted the same year.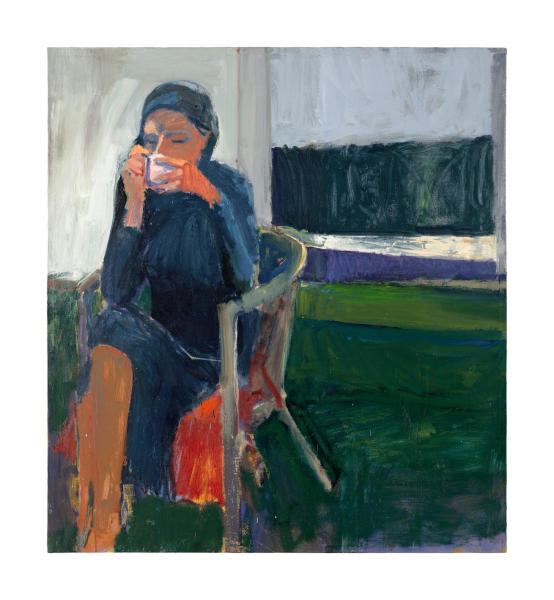 Richard Diebenkorn, Coffee, 1959, oil on canvas



Richard Diebenkorn, View from a Porch, 1959, oil on canvas
Diebenkorn had also encountered and been strongly touched by Matisse's work while at Stanford, and, as he wrestled with this debate, he kept elements of Hopper but turned more and more to a prolonged direct study of Matisse's works for solutions. Eventually what he had understood and assimilated from both these artists (and Rothko) brought forth his unique, fully realized master works, the magnificent and revered
Ocean Park
series.
Richard Diebenkorn in front of two of his Ocean Park paintings